There is a certain Helen who I would like to thank for providing the Greenslit family with quality genealogical information. She is the best.
Birch Coulee Greenslits Line:

1. Thomas Greenslade m. Ann (maiden name unknown, a Salem Witch).
2. John Greenslit m. Abigail Curtis.
3. John Greenslit m. Sarah Rix (as a widow, she m. Joseph Ford in 1755).
4. John Greenslit m. Sarah (maiden name unknown, some say Manning).
5. John Greenslit m. Sarah Burnham (as a widow, she married Henry Abbott).
6. John Greenslit m. Silome Pitts (he fought in the Revolutionary War).
7. Stephen Greenslit m. Zuriah Shaw (daughter of Richard Shaw).
8. Stephen A. Greenslit m. Manora E. Loomis (moved to Birch Coulee in 1869).
9. John F. Greenslit m. Ethel Morse.

John F. and Ethel Morse had eleven children: Gladys, Irvin, Elva, Lloyd, Harold, Berneice, Elsie, Berton, Vernon, Glen, and Kenneth.

John F. and Ethel Morse were my Great Grandparents.
7. Stephen Greenslit - Born June 1800 in Monson, Hampshire County, MA. He was the son of John Greenslit and Siloma Pitts. He married Zuriah (Juriah or Luriah) at Bridport, Addison Co., Vermont on 12/25/1827. Stephen and Zuriah… "…were putting forth strenuous efforts to wrest a living and some profit from their stubborn broad acres among the Green Mountains of that New England State (Vermont)." - History of Renville County, provided by the Renville County Historical Museum.

They had six children.: Richard Louis, Stephen A., John I., James E or James Pitts, and Elisa or Elizabeth. Around 1858, due to "business reverses" they moved to Minnesota, near the village of Kasson to live next their son Stephen A. Greenslit and his wife Manora.  It appears that of four of their six children, Richard, John, James and of course Stephen A., all moved to Minnesota at sometime during thier lives.

Stephen died in 1879 in Marshall, Minnesota, and Zuriah died in 1888, also in Marshall.
8. Stephen A. Greenslit - Born 1/28/1833 at Warren, County of Washington, Vermont. In 1854 he moved to Reedsburg, Wisconsin where according to the Morton Enterprise, "he was employed at lumber camps and in driving rafts down the Wisconsin river." He married Manora E. Loomis on 10/05/1856 in Reedsburg. She was from Brookfield, Vermont. Upon their marriage they moved to Dodge County, Minnesota. The took up a claim near the village of Kasson. It appears that some time later, he sold the Kasson farm and moved to Mantorville, Minnesota. In 1868 he accompanied a neighbor who was moving to Birch Cooley. During this trip, he bought 320 acres in Renville County.

"In the spring of 1869 he, with his wife and two children, with several ox teams, loaded all their worldly goods into wagons, driving quite a herd of stock, took up their trek from Dodge county to their new home to be, on the then wild prairie of Renville county. The trip was full of incidents worth relating, but exposure to the elements and hardships to the pioneer trail blazers was the expected portion, as they turned their faces to the west with determination and hope.

The family, with their stock and all their belongings, arrived at their destination on this new purchased Birch Cooley half-section of land early in March, 1869; the day was cold, and they came to the place at night, after a hard day's drive with their ox teams and drove of stock. The good wife found a small board shanty which she would have to call home, for the time; this was half-full of snow, which had to be shoveled out before formal possession could be taken, but that difficulty was soon overcome, as others had been, and they soon found themselves settled upon their new possessions, which took them no great length of time to put in shape for business farming, and some degree of comfort." - History of Renville County, provided by the Renville County Historical Museum.

Stephen A. died April 6, 1917 in Morton. Manora died January 8, 1901. Both are buried at the Morton Cemetary.

9. John F. Greenslit - Born 8/24/1863 at Kasson, Minnesota. At age 20 he became the manager of his father's farm in Birch Coulee, Minnesota. His wife Mary Ethel Morse was born 10/21/1871. She was the daughter of Lewis E. Morse of Massachusetts and Elizabeth (Adams) Morse, also of Massachusetts. John and Mary married on 1/31/1891.

"In 1890 he built a large new home on the outskirts of Morton. It is a large, modern, fifteen-room house, 32 by 52 feet, with 20-foot posts, and has a full basement. It is equipped with hot water heat, electric lights, electric power also being used for washing, sweeping, and so forth. There is water throughout the house, with pressure tanks in the basement. The house is finished in oak downstairs and has hard maple floors. There is a two-story sleeping porch at the rear. The house cost $10,000." - History of Renville County, provided by the Renville County Historical Museum. Thank you June.

John died October 1, 1955 and Mary Ethel died April 4, 1960, both in Redwood Falls where the local hospital is located.
The above mentioned house and the one to the left is the one that was at the foot of Greenslit Hill.
John Freemont Greenslit (Mont), and Mary Ethel Morse Greenslit
(These scans will have to do for now. If anyone has something better, please let me know.)

This is the Old Greenslit house in 2000 as pictured in the Redwood Falls Gazette. In the background is Greenslit Hill, and you can also see the fire truck on the left as it was used for a fire department training exercise as mentioned on the last page of this site, and this picture is from the same article. After you climb Greenslit Hill you end up on what I think of as the plain (Great Plains). The Minnesota River Valley cuts into the plain at Morton, so as you approach the town from the North or East you drop down into the valley. As you go South from Morton on State Highway 71, you cross the river and if you then head towards the Jackpot Junction Casino, you also climb up the valley and onto the plain.

"...owners John Reynolds and Harriet Deinken found the original 1900 deed of the house while they waited for it to be burned down... ...great-grandson John Reynolds supervised the burn." - Picture and quotes from the Redwood Falls Gazette
KinSource.com has a nice section entitled, "The History of Renville County Minnesota, Volume 2" where some of the original book from 1916, of the same name is online. I know in Stephen A. Greenslit's case, it covers back to the 1830s.
Here is something new I have been working on, the Mound Westonka Blog that is targeted at my hometown, Mound, Minnesota. 

Here are some of my other webpages:

Aunt Bun

Berneice Elizabeth Greenslit Eddy, age 100 of Howard Lake, died Saturday, Sept. 10, 2005.

She was born Oct. 11, 1904 in Morton to John and Ethel Morse Greenslit.

Berneice received her elementary and secondary education at Morton, but left home to study a year at Winona State College and a year at Mankato Teacher's College, where she earned her degree in elementary education. She taught school in a one-room schoolhouse in North Redwood, near Redwood Falls; Round Lake, then in Howard Lake.

Read more at: the Herald Journal.

Aunt Bun was the last of Mont and Mary Ethel's children. My Father enjoyed having her visit or driving her to a family event. I remember her warmth, her laugh and her smile.
Bea's (Aunt Bun's) Parents

Mary Ethel Morse was born October 21, 1871 at Beaver Falls, Minnesota, and died April 4, 1960, in Redwood Falls, Minnesota, at the age of 89. Mont was born August 24, 1863, near Kasson, Minnesota, and died October 1, 1955, in Redwood Falls, Minnesota, at the age of 92. He came to Birch Coulee in 1869 at age 6 "driving" oxen with a covered wagon to help settle his family's homestead. Mary and Mont were married on December 31, 1891, at Beaver Falls and first lived on a 320 acre farm in Birch Coulee Township before moving to their newly built home near the village of Morton. They were lifetime members of the Morton United Methodist Church where Bea's son, John Paul, was baptized on April 12, 1944.

Mont eventually owned and farmed 2000 acres of land and raised corn, soy beans (beans), silage and hay to feed hundreds of white faced beef cattle which he bought in Montana and sold in South St. Paul, Minnesota as feeder cattle. When he retired, this large farm was divided among Mont's seven sons and four daughters and provided well for all his descendents. Grandchildren of Mont and Mary Ethel still farm the land.

- from A Minnesota Lady's Century 1904 to 2004, written by John and Betty Eddy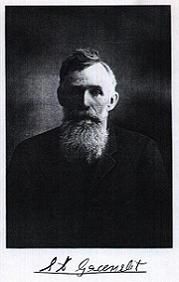 Stephen A. Greenslit
Photo from "The History of
Renville County Minnesota"
The book is dated 1916.
"Agriculture is a way of life of Brian and Gloria Greenslit on their 2.050 acre farm located in of Minnesota's most intensively farmed counties. In 2004, Renville County was first in corn production and third in soybean production in Minnesota; however, not all of the land was suited for crops. So, the Greenslits enrolled 450 acres of their more marginal land in CRP, including lands enrolled in the state Conservation Reserve Enhancement and Reinvest in Minnesota programs. Land that was once problematic is now sporting productive, healthy riparian buffers, filterstrips, native grasses and forbs, wetlands and uplands." - Winter 2007 Pheasants Forever magazine  See the complete story: Here

Brian is my second cousin and along with a few other Greenslits, carries on the family tradition of farming in Renville County. He, Gloria and their four children live just outside of Morton.
A future project is to make a distribution map of the Greenslits. The map would cover the United States and Canada and show where we live? The input would be Zip Code and number of Greenslits living there. I would appreciate some help with this.
       Have a Gneiss Day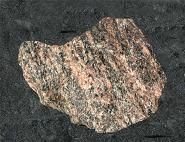 "Some of the oldest rocks in the world include the gneiss found in the Minnesota River Valley. The Morton Gneiss, which is 3.6 billion years old, is a coarsely crystalline, foliated metamorphic rock... Gneiss is quarried for use as building stone and monuments. You can find outcrops of gneiss near Morton (the famous "Rainbow Gneiss"), Redwood Falls, Sacred Heart and Ortonville." - from the U of Minnesota's site

Gneiss is pronounced nice. Cold Spring Granite Incorporated still quarries what is also called Rainbow Granite from Morton. It's my guess that the Minnesota River Valley which really cuts deeply into the land at Morton, is the reason that the granite is accessible.

An interesting note about Stephen A. Greenslit, "naming his son John Freemont, after the first Republican candidate for President of the United States." Stephen was "one of those old-time Vermont Republicans..." - History of Renville County. I am told that Stephen's grandson John, was the Mayor of Morton.